Co-founder and partner at Bravo Compagnie
Interim Marketing Director
Marketing & Business Development Manager at Hendrik Veder Group
The strongest swager
Field hockey rope
Wherever things are happening
Grand Opening
Exhibitions
Visit Dutch Royal couple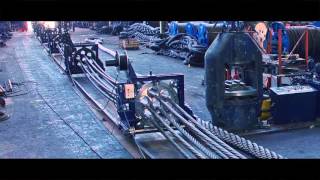 World's longest cable laid slings
Co-founder and partner of Ex Novo trading & consulting
Migration to a new identity
Marketing Director at SunConnex
The Maritime Supply Group
Silhouette and Facette shades
Training & demonstrations
New PCMO brand platform
Distributor Partner Program
Marketing program for independent garages
Promotions
World Rally Championship
Indoor media
Co-founder and partner at Bravo Compagnie

Bravo Compagnie provides the full range of integrated marketing and communication services– from consulting and concepts to design and everything in between. It's fair to say that we DO what other marketing and communications agencies do – but we ARE different. An unusual duo combining agency-side creativity with client-side knowhow for the most effective result. Some of our past and current clients include: AkzoNobel (car refinishes), Valvoline (motor oil), Van Beest (lifting accessories for wire rope and chain), Lamb Weston (frozen potato products and appetizers), Crowe Peak (accounting), Dutch Marine Technology (maritime communication, navigation and ICT), GKS Packaging (packaging machines).

Interim Marketing Director

Interim marketing management services in the role of Marketing Director Benelux & Nordics at Log4Real (12/2016 – 4/2017). Log4Real is a developer of light industrial and logistics real estate for high quality multi-tenants within carefully targeted prime investment locations in 16 of Europe's 24 top logistics "Hot Spots.

Marketing & Business Development Manager at Hendrik Veder Group

Hendrik Veder Group is a leading, independent, Rotterdam-based company active in steel wire and fibre rope products & related services. I was hired soon after the introduction of a new majority shareholder and shareholding structure for the first three companies in the group. In this new role, I successfully linked strategy to marketing execution and built a modern marketing operation. I also managed a number of projects, leading to the successful organisational merger of three companies, one joint venture and one acquisition.

The strongest swager

Hendrik Veder Group Norway presented its new 4,200T swager – the most powerful swager on Norwegian soil - during a truly muscle-bound event. The event was co-hosted by Svend Viking Karlsen, former strongman who broke 30 Norwegian power records in his professional career.

Field hockey rope

Rope has many applications. However, the use of rope as temporary barrier on field hockey playgrounds was new in 2015. Rope Factory G. van der Lee was the first to bring a product to market, and I have provided all the marketing support needed for entering this new market.

Wherever things are happening

Corporate movie titled 'Wherever things are happening'.

Grand Opening

Managed the Grand Opening celebration of Hendrik Veder Group's newly refurbished and expanded Rotterdam location.

Exhibitions

Managed Hendrik Veder Group's participation in more than 20 national and international trade shows.

Visit Dutch Royal couple

King Willem-Alexander and Queen Máxima did a nationwide tour following Willem-Alexander's investiture as king in 2013. G. van der Lee Rope Factory was honoured to rank among the few companies chosen to be visited by the king and queen during their tour. This rendezvous happened at the Marine Marnemoende in the municipality IJsselstein in front of an outdoor booth specially made for this occasion.

World's longest cable laid slings

In May 2013, Hendrik Veder Group has produced two cable-laid slings with a gigantic length of 280 meters each. To their knowledge, these are the world's longest cable-laid slings ever produced. Terminated with two hand spliced soft eyes and weighing 63 MT each, the cable-laid slings were be used by Saipem for subsea field installation in the Åsgard field in the Norwegian Sea. This time lapse video captures the entire production process of these slings at the production facility in Rotterdam in just 99 seconds - a process that in reality took more than a fourth night.

Co-founder and partner of Ex Novo trading & consulting

I was the co-founder and partner of Ex Novo trading & consulting. We created opportunities for producers, entrepreneurs, innovators and emerging businesses (2009-2012).

Migration to a new identity

Laurens and Zorg Compas, both providers of housing, care and welfare services for the elderly in the Rotterdam region, merged to one organization. As part of the merger, the Zorg Compas name has been dropped and the new organization operates under the name of Laurens. Fifteen Zorg Compas locations have been successfully migrated to the Laurens identity.

Marketing Director at SunConnex

SunConnex is no longer in business. As a specialised photovoltaic product distributor, the company offered a wide portfolio of high quality brands of solar modules, inverters, mounting systems and other accessories through local offices in five European countries.

The Maritime Supply Group

Early member of this start-up company dedicated to revolutionising international supply of (technical) consumables to ship owners. I was responsible for all Marketing and Communications, co-building and designing Information Memoranda & Business Plans for three takeover targets.

Silhouette and Facette shades

Hunter Douglas is the world market leader in window coverings and a major manufacturer of architectural products. I was responsible for all Marketing and Sales Support Management of Luxaflex' proprietary products Silhouette and Facette shades. I successfully managed one collection update and one new collection introduction.

Training & demonstrations

(On-site) training & demonstrations

New PCMO brand platform

Directed Valvoline EMEA's new brand platform in 2005, including EMEA-relevant sub-brand positions, advertising and new product & packaging update.

Distributor Partner Program

Implemented a Distributor Partner Programme to align strategic and operational objectives of Valvoline EMEA and sixteen tier 1 national distributors.

Marketing program for independent garages

Created and managed MaxLife Service Centre Program, Valvoline EMEA's most important marketing program aimed at independent garages.

Promotions

Developed pan-European trade and consumer promotions.

World Rally Championship

Responsible for Valvoline's World Rally Championship (WRC) motorsport sponsorship in Europe (1999 – 2002). This included management of VIP hospitality programmes at racetracks and integration of the sponsorship in all Valvoline EMEA marketing programmes. Experienced in negotiating potential sponsorships in MotoGP and WRC.

Indoor media

Initially hired as Traffic Manager responsible for sourcing and purchasing all indoor advertising material, leading the DTP department (4 people) and working as project manager on special projects (AHOY Rotterdam, Makro). Then promoted to Service Unit Manager Design & Production and joined the Management Team, including responsibility for the Technical Service (4 people) and Customer Service (4 people) departments.